NEW TO BREATH & BODY YOGA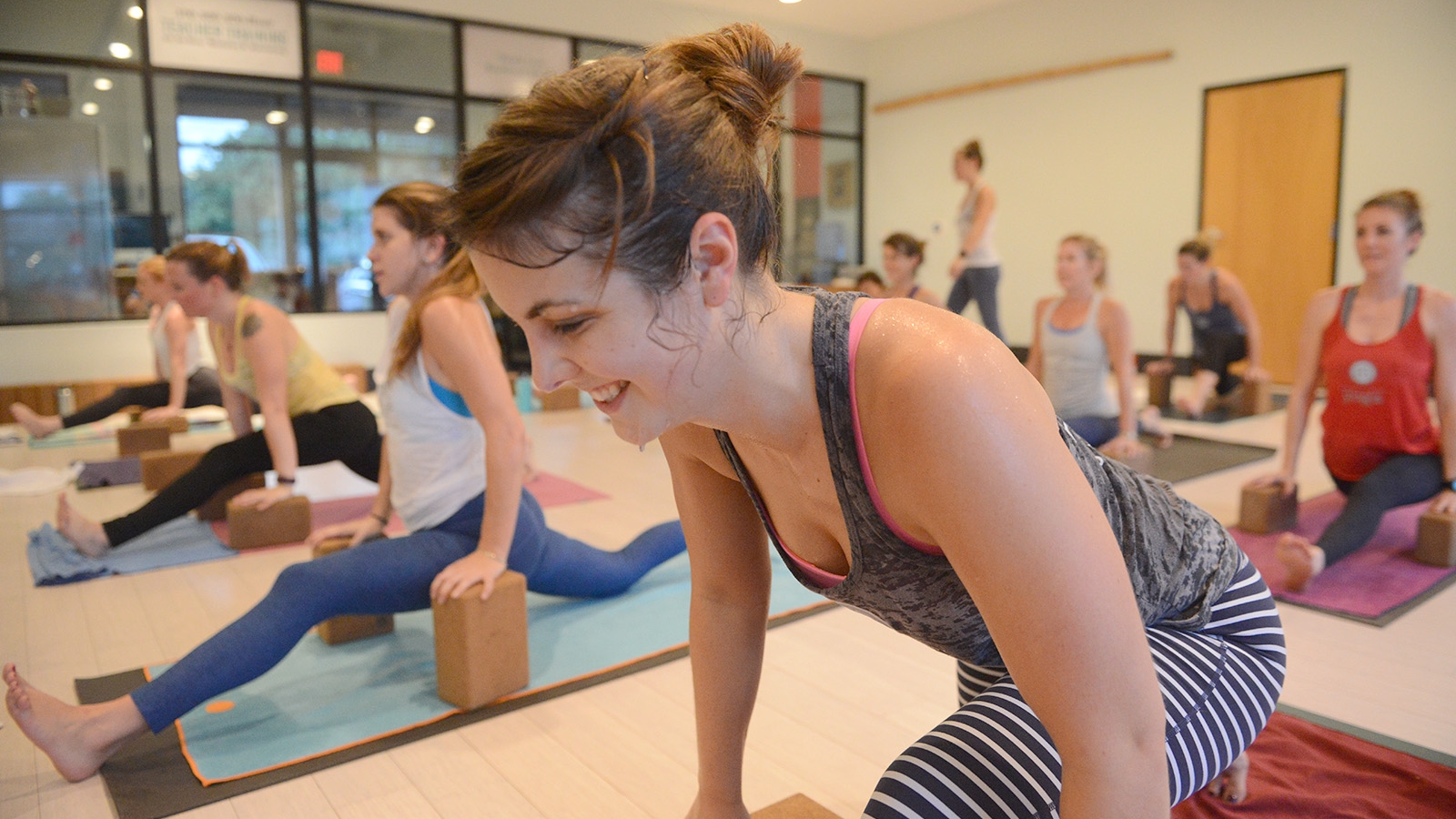 Come to the Studio.
Join Our Community. Let's practice together.
FREQUENTLY ASKED QUESTIONS
BENEFITS OF YOGA:
Increases Energy & Vitality

Improves Postural Alignment

Corrects Back & Neck Problems

Great for Injury Prevention

Sports Rehabilitation

Strengthens the Immunity System

Relieves Stress, Tension & Headaches

Improves Overall Flexibility

Creates Mental/Emotional Balance

Weight Control
WATCH OUR TESTIMONIALS HERE
TIPS FOR NEW STUDENTS:
Classes start and end on time so please give yourself plenty of time to set up your mat, check in and be ready for class.

If you have questions please ask. The staff can answer them either during or after class.

Remember to drink plenty of water prior to your class. Hydration makes a huge difference in your physicality.

Please let the instructor know if you have any injuries. Yoga will heal you but the teacher needs to know your ailments in order to properly adjust your poses and keep you in healthy alignment.

Place all props back in their original place. Help us keep the studio neat and clean.

Come with a great attitude and share your love and peace with the studio.
WHY PRACTICE YOGA IN A HEATED STUDIO?
The heat enhances vasodilatation so that more blood is delivered to the muscles. This means that the capillaries that weave around the muscles respond to the heat by dilation. This brings more oxygen to the muscles and helps in the removal of waste products such as carbon dioxide and lactic acid.
The heat allows oxygen in the blood to detach from the hemoglobin more easily. When blood passes through warm muscles, oxygen releases more easily from the hemoglobin. Blood passing through cold muscles releases less oxygen. The heat also speeds up the breakdown of glucose and fatty acids that makes muscles more elastic, less susceptible to injury. It reduces heart irregularities associated with sudden exercise and improves coordination.
The heat also burns fat more easily. Warmed muscles burn fat more easily than cold ones which allows fat to release during stress. The stress of a intense exercise can cause a deluge of fatty acids into the blood stream. If you exercise with cold muscles, they cannot use the fatty acids, and end up in places where they are not wanted such as in the lining of your arteries. Higher temperatures improve the function of the nervous system, meaning that messages are carried more rapidly to and from the brain and spinal cord. Warmer temperatures also produce a more fluid stretch, allowing for greater range of motion.
WHAT TO EXPECT FROM A HEATED STUDIO?
Expect to sweat, so dress accordingly. To prevent dehydration from loss of retained water through sweating drink plenty of water prior to and after class. It is important to drink water after class as well to replenish water lost during practice. Note: headaches are the first sign of dehydration.
Expect to be in a heated room (83-88 degrees) for 60-90 minutes. It is common for new students to experience dizziness or nausea if they are not acclimated or accustomed to the heat. The only goal for a first time student is to remain in the heated room for the duration of the class; most students do not complete all physical asanas the first time. New students should take rest if their body tells them to do so. Expect to focus on yourself and your practice for 60-90 minutes. To complete the postures, which are very physically demanding, students must drop all mental baggage or restless minds at the door. Injury most often happens when students are not focused on the posture at hand and are thinking of other things outside the yoga room.
*MOST IMPORTANT: Expect to gain a calmer mind, a more open body, stronger muscles and a fine-tuned physical appearance.
WHAT IF I AM NOT FLEXIBLE?
Flexibility is the side effect of a good yoga practice. It is not a requirement; the physical benefits of yoga can be attained without flexibility. Flexibility will come with time…. remember, "The prize is in the process."
WHAT TO BRING?
Sticky yoga mat, towel or Yogitoes®, water bottle and most important, bring a good attitude.
Note: what not to bring: valuable personal belongings or jewelry that you would not feel comfortable leaving in the cubbies in the entry, as we do not allow miscellaneous items unnecessary to yoga in the practice room. Personal belongings including pagers, cell phones, pda's must be kept out of the yoga room.
WHAT TO EAT OR NOT EAT BEFORE PRACTICE?
It is recommended not to eat for 2-3 hours prior to a heated yoga class. Food in the stomach will increase the likelihood of nausea during class. More importantly the body uses internal energy to break down and digest food. If you are digesting food in a yoga class your body is diverting precious energy away from your physical asanas to your stomach.
WHAT DO I WEAR?
It is recommended to wear light and breathable clothes. Your skin is the largest organ of the body and it needs to breathe during practice. Cotton pants and sweats are not recommended. They capture sweat and actually overheat the body. Nylon pulls sweat away from the body. Nike, REI, Whole Earth and Whole Foods are great retailers that stock plenty of yoga clothes. The teachers love ordering from Prana, Lululemon and Be Present. Once you start wearing yoga clothes, they will become a way of life.