OUR STORY & PHILOSOPHY
At Breath and Body Yoga, we believe in the transformational power of yoga. We are fiercely committed to empowering students, and teachers, to find inner strength, balance, and peace through physicality (this yoga is no joke). We are determined to provide our students with the tools to utilize their bodies to their fullest potential and leave them in their greatness. We have established a clear, yet ever-evolving system which allows students to efficiently learn how to become mindful and aware of their bodies to unleash true physical power. The Breath and Body Yoga System guides students in the evolution of their yoga practice and influences their life off of the mat. It is inspirational. It is connective. Physiologically speaking, we weave elements of Power Vinyasa Yoga with the natural curves of the spine called the Bowspring, an emerging alignment system to create a unique and powerful yoga practice. This system allows individuals to experience the body in a 360 degree, circumferential way. We are looking at the body energetically, as well as anatomically to consider our true bodily architecture and how we function in today's world.
Meet Desirae Pierce, Owner & Director Breath and Body Yoga
Shining in ballet from the age of three, Desirae took a lead role in the Nutcracker by the age of six with the Fort Worth City Ballet Company. Through high school and college, she continued a path of competitive sports mixed with the arts. After graduating from the University of Texas at Austin, she followed a creative marketing path and in 1993 opened her own graphic design studio American Pie Design, Inc. Desirae discovered that yoga provided a counter to the stress of the corporate world. Traveling the country for major corporations, she experienced many yoga styles, but found, Bikram Yoga, Baptiste Power Vinyasa Yoga, Anusara Yoga and Bowspring styles provided a spiritual aspect, the missing puzzle piece to her life. In 2006, she opened Breath and Body Yoga on Burnet Road and in September of 2015 she opened the second location on Exposition in Austin, Texas. She established the leading 200 and 500-hour teacher training school in Austin plus produces online classes and yoga videos. The University of Texas's Women's Volleyball, Softball, Golf and Men's Baseball and Women's Basketball teams hire her to bring strength, flexibility, breath and alignment to their collegiate sports. At present she is working on a publication called, "The Natural Machine Within," a book that outlines the philosophy and alignment tools of the studios. She also teaches, tours and trains, bringing a new dynamic to the practice where vinyasa flow meets alignment.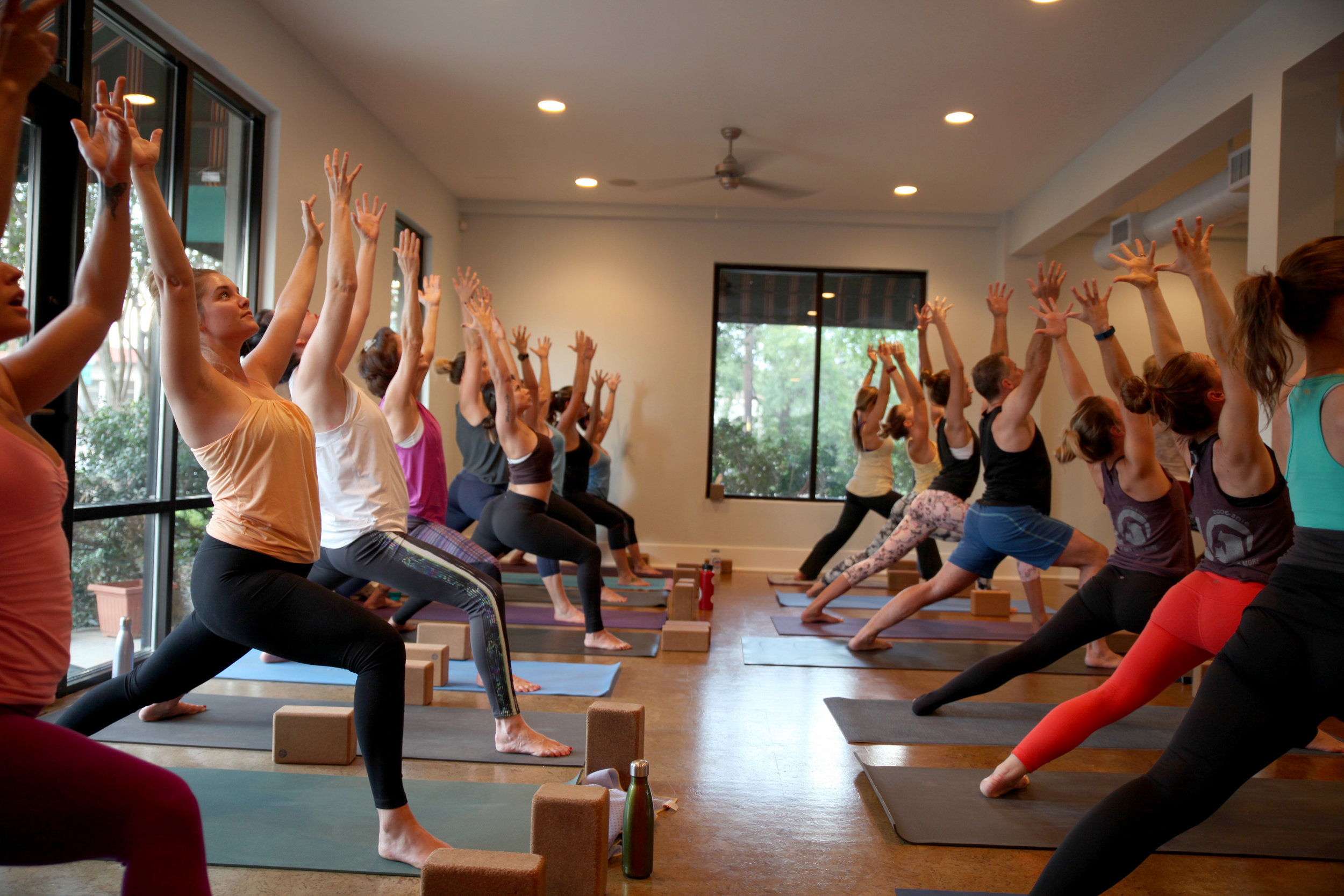 What is Power Vinyasa Yoga?
Power Vinyasa Yoga are 60, 75 and 90 minutes classes that link the vitalizing breath with the mindful movements of the body to create a powerful flow. Starting with a 10-minute Integration, students land on their mats and their in their bodies. We move with breath through the Sun Salutations, a Vitality Series, followed by a Standing Balance series, Triangle series, Backbends and at the end a long hip opening sequence. Woven through the practice are the arms balances and inversions. Students who practice will cultivate strength, flexibility, balance, focus and awareness as well a a release of bound energy and toxins through the body.
The Bowspring is an ideal postural shape can be applied to yoga postures, dance, athletics, and most importantly, to everyday postures and movements like sitting, standing, and walking. It provides for balanced tone on both front and back of the body, resulting in graceful lightness and whole body strength. We teach students of all ages how to consciously expand the core of the ribs; lift the gluteus muscles to support the natural curvature of the lower back; and evenly tone all sides of the neck. Some of the characteristics of the Bowspring forms are the bent knees, lifted heels, chest and upper back expanded on all sides, broad shoulders, and a long, curved neck.
Our staff are the real rocks stars of Breath and Body Yoga. Each teacher has professionally trained with Desirae Pierce, Baron Baptiste and/or John Friend and Desi Springer. The staff continues to train on and off the mat and are committed to their own practice as much as they are their teaching. This approach and continuously evolving methodology not only allows us to stay connected with the technical advancement of physical anatomy/postural science but also keeps our students stronger, healthier, and less prone to injury. This system as a whole is transformative. It is imperative that yoga teachers are committed to the process of continual learning through Landmark Education, Tony Robbins and other leadership trainings. It is only through deep personal experience, can you fully understand the power and healing abilities of yoga. Through years of practice and training teachers our teachers create a caring environment filled with insight, dedication, and a commitment to growth. Teachers link integrity with authenticity to create a flexible and balanced practice that all practitioners can respect and learn from.
Check out our Instagram feed!